The holiday season gives many people a reason to cook dishes they normally wouldn't make on an everyday basis. Turkey becomes a staple in many households. The holidays just wouldn't be complete without it.
I have always roasted my turkey in the oven just like my grandma and mother used to do. Delicious every time. Recently though, my husband has had an itch to try smoking meats. The first thing he did was a turkey breast. It came out marvelous!! It definitely didn't last long once we started eating it. Everyone loved it! If you are ready to try something a little different this season, give this a try. You won't regret it!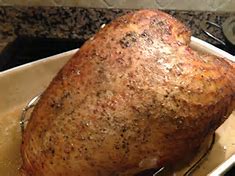 | | |
| --- | --- |
| | |
Preparing the Turkey Breast
Rinse and pat dry turkey breast, then loosen skin on both sides.

Mix the seasoning salt and paprika and spread liberally on the underside of the turkey skin and the remainder on the outside. Place the remaining herbs underneath the skin also.
Soak 3 cups of wood chips in water

In the water pan of your smoker, add the apple, onion, half of the time, half of the rosemary and half of the sage (leaves torn).

Using approximately 10 lbs of charcoal, light and when it's nearly all gray, place water pan on top of grill base in grill. Add 7 cups water to the water pan with the apple, onion and herbs. Replace grill rack.

Drain the excess water off of the wood chips and add to the charcoal.

Place turkey breast on top rack, cover and smoke at 250 degrees for approximately 3 1/2 hours until it is 160 degrees internally.

Cover with foil and let stand for 30 minutes before serving.
You may also want to give this cranberry sauce a try for an extra surprise for your guests!
| | |
| --- | --- |
| | |
Over a piece of cheesecloth, place cranberries, sugar, juice and a 3-4 inch piece of rosemary in a saucepan. Heat and simmer for about 3-4 minutes.

Remove from heat and stir in zest. Cover and let set for 10 minutes.

Remove rosemary and press all juices out through the cheesecloth.

Transfer to serving bowl and cool.

Garnish just before serving with a sprig or two of remaining fresh rosemary.