Hello! Wow, Iowa State Fair season has come and gone again. This year, we put on a presentation titled "Cooking with Fresh Herbs" by Colette Conkling Cox as well as sponsored a competitive cooking class for the second year in a row. We were blown out of the water by the turn out. Thank you everyone who came and watched or participated in either of these events. We value our loyal customers and appreciate the support immensely.
As promised, we are sharing all recipes from the presentation put on by Colette Conkling Cox. The theme of the presentation was how to creatively use fresh herbs in "finishers". This included a demonstration on how to infuse herbs into vinegar, oil, butter, salt, sugar and simple syrup. Many of these items look just as amazing as they taste and would make good gifts or additions to gift baskets!
Vinegar
To start, you must select the vinegar you will be infusing. It is important to find a good quality vinegar with an acid content of at least 5%. Make sure all utensils are non-metal. You will then want to choose your herbs and spices. Once this is selected, place your herbs and spices into a tall glass bottle and pour the vinegar on top, making sure to cover the entire herb. Cover and let this set for 24 hours before using. After each use, refill the bottle to keep herbs and spices covered. Shelf life of 6 months.
Oil
Select an oil with a light flavor, such as an extra virgin olive oil. Select herb and spice blend of your choice. Add to a tall glass bottle and top with oil, making sure to cover entire herb and spice blend. Cover and let sit for 24 hours two weeks in a cool dark place before using. Shelf life of 4-6 months.
Simple Syrup
Place equal parts sugar and water into a saucepan over medium-high heat until boiling. Remove from heat. Add 3-4 sprigs of desired fresh herb to liquid and let steep for 30 minutes. Strain and place into storage container. Store in the fridge for up to one month.
Compound Butter
Bring one stick of unsalted butter to room temperature. Mix 1 tsp of desired spice blend (garlic, salt, pepper, etc.) and one tablespoon of chopped fresh herbs into butter. Place mixture onto saran wrap or parchment paper and form into a log shape. Wrap paper around butter and twist ends. Place into the fridge to cool until firm. Coins may be cut off and used as desired. Butter should be stored in the fridge or freezer. Compound butter is good in the fridge for 2-3 days and up to one year in the freezer
.
Sugar
Choose a storage container for your infused sugar. A mason works well. Start by placing a layer of desired fresh herb leaves in the bottom of the jar. Then, cover with a layer of sugar, about ¼ inch deep. Continue to layer herb and sugar until your container is full. Place lid and store in the fridge for up to three months.
Salt
You will need ½ cup course sea salt, 1 cup regular or fine sea salt and ½ cup fresh herbs of your choice. Place fresh herbs and course salt into a food processor and blend until well combined. Once your course sea salt is about the same consistency of the regular sea salt, add regular sea salt to the food processor and blend again until well combined. Place salt mixture into a shallow baking dish. Let sit for 2-3 hours, stirring occasionally. Place into storage container and store in the fridge for up to 6 months.
We also want to congratulate the winners in our "Cooking with Fresh Herbs" competitive cooking class. We challenged our customers to come up with their best recipe which fell into the category appetizer, bread or dessert. We then judged the entries on the criteria of appearance, taste and creativity/use of the herb. We had SO many talented cooks and bakers enter. Thank you so much! The winners were as follows.
Appetizer
3rd Place: Creamy Potato Roses by Holly Boyd
2nd Place: Spring Herb Tartlets with Honey and Goat Cheese by Natalie Larson
1st Place: I Herbed You Were Making Sushi by Bridget Lottman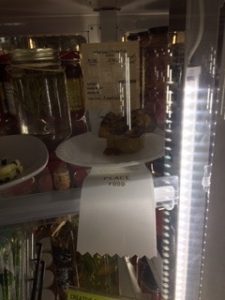 Bread
3rd Place: Oatmeal Parmesan Herb Bread by Rebecca Howe
2nd Place: Cottage Cheese Dill Bread by Rebecca Ridgeway
1st Place: Herb Spoon Bread by Bridget Lottman
Dessert
3rd Place: Rosemary Orange Chocolate Cake by Olivia Caron Smith
2nd Place: Rosemary Peach Upside Down Cake by Alisa Woods
1st Place: Lemon Basil Mint Panna Cotta by Cheryl Rogers
Overall Grand Prize Winner: Lemon Basil Mint Panna Cotta by Cheryl Rogers
Congratulations!!