I love Halloween!  The decorations, the candy, the costumes and everything else that comes with it.  My kids tease me because every time they come into the house, and I'm watching TV, it is some kind of scary show or movie.  I have always had a slight obsession with Halloween.  The one thing I have never done is have a Halloween party of my own.  I see lots of great ideas for parties, but my house just isn't big enough to host a party like I would love to have.  So, since I can't host my own, I am going to give you a couple ideas to use at your parties!
Who doesn't love a good scary snack or two?  And if you have a great theme going that makes it even more fun!
Try this Casket Dip.  Simply cut the top off of a loaf of unsliced bread for the 'casket lid' and then hollow out the loaf to make the bowl for the dip.  Fill with your favorite dip and decorate with a skeleton, spiders, rats or whatever you like.
| | |
| --- | --- |
| | |
In a large bowl, sprinkle yeast over warm water and let sit about 10 minutes until it looks foamy. Add oil, herbs and salt. Stir. Slowly add flour and mix until dough forms a ball.

Knead on a lightly floured surface for 7-10 minutes until elastic.

Cover dough with a towel and let rise until doubled. Punch down the dough and turn out onto a lightly floured surface. Form into a loaf and place into a greased and floured loaf pan. Cover and let rise until doubled.

Preheat oven to 350 degrees F. Brush loaf with olive oil and cut a slit down the center of the top of the loaf about 1/2 inch deep. Bake for 40-50 minutes until golden.

Remove from pan and let cool before serving.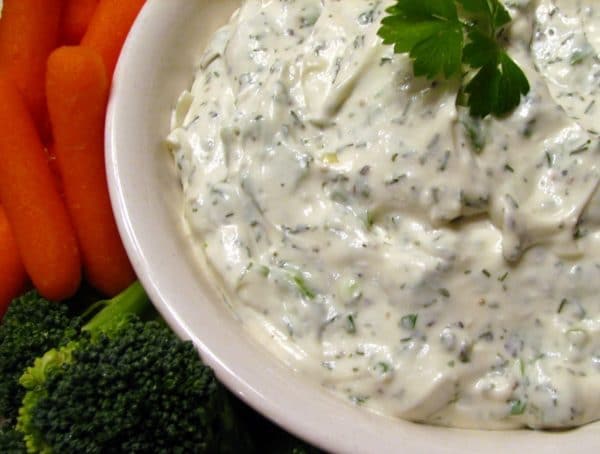 | | |
| --- | --- |
| | |
Mix all ingredients together in a food processor until well blended. Add food coloring to mixture and stir to get the desired color.

Transfer mixture to a serving bowl and cover. Chill for at least an hour before serving. Serve with crackers, veggies, or chips.
You can also use a small pumpkin to hold your dip.  Take a plastic container that will fit completely inside the pumpkin, turn it upside down on the top of the pumpkin and trace around the edge.  Cut on the line and hollow out the pumpkin.  Place the bowl into the pumpkin and fill with dip.
Scary pizza?  Yes, please!  Make bite size pizzas out of small bagels or small rounds of pizza dough.  Place your dough on a pizza pan, spread a little pizza sauce (see recipe below) on each one and add whatever toppings you like. For the cheese, take a slice of mozzarella and cut it into the shape of a ghost and place it onto the pizza and bake.  Ghost Pizza!!  You can also use black olives for spiders – cut in half lengthwise and place one half cut side down on pizza to be the 'body'.  Cut eight slivers from the other half of the olive and place them around the first half to be the 'legs'  Use yellow cheese for pumpkins and more pieces of black olives for the face.  You can also make larger pizzas this way!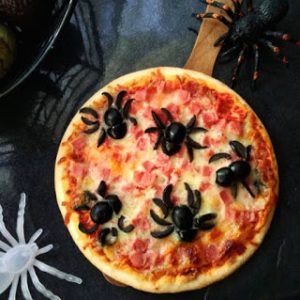 | | |
| --- | --- |
| | |
Combine all ingredients in a saucepan over medium heat and bring to a boil. Reduce heat and simmer for about 30 minutes.

Let cool slightly and pour into a blender or food processor and puree until you reach the desired consistency.

Use to make your favorite pizza or as a dip for bread sticks or meatballs.
Happy Halloween!