If you love beans, but suffer the unpleasant consequences later, you might want to look into the use of epazote in your recipes. Epazote, (pronounced ep-ah-ZOH-tay) is a strong flavored, leafy herb that is used primarily in Mexican dishes. Epazote is a carminative, which means that it reduces the gas associated with eating beans. Not only that, it adds a unique flavor to recipes.
Epazote has been used since the times of the Ancient Mayans as a spice and a medicine. Medicinally it was used as an antiparasitic in children and animals.
Typically, epazote is cooked with black beans, but can be cooked with pinto beans also. It can be used in scrambled eggs, moles, cream sauces, corn, soups and tea. Try it in cheese quesadillas to add a new level of flavor.
Be aware that Epazote doesn't necessarily have a pleasant odor when raw. It has a petroleum-like scent that will make you wonder if you really want to add it to food! Thankfully, epazote mellows during the cooking process. Use caution, though, adding too much epazote to a recipe can overpower the flavors and cause nausea.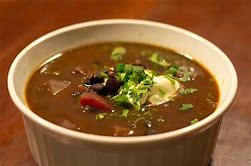 | | |
| --- | --- |
| | |
Preheat oven to 300 degrees. In a large Dutch oven place the beans, chicken stock, water and epazote. Bring to a boil on the stove top. Skim off foam and cover. Bake for 90 minutes.

In a large skillet, brown the sausage then remove from pan leaving fat in the pan. Add the onion, carrots, celery and garlic to the fat. Cook over medium heat until the vegetables are tender.

After the 90 minutes of baking, remove the beans from the oven and add vegetables and sausage. Also add the chile power, cumin and salt. Stir well.

Cover and bake for another 60 minutes. Serve hot.