Mariposa Farms is proud to say that we've been doing business with Hy-Vee stores for 22 years. We have a great working relationship with Hy-Vee and provide them with fresh, locally grown herbs.
Hy-Vee stores started featuring locally grown produce in their stores long before it became a trend. I was able to visit with West Des Moines Hy-Vee produce manager, Michael, about why it is important to have local produce available to customers. He said, "There is nothing more satisfying than making a meal with locally grown produce. You get to use the freshest ingredients possible, and also support your local farmers and local economy." Hy-Vee supports local produce in a way that no other grocers do, with its Hy-Vee Homegrown program. Proudly, Mariposa Farms is a part of that program. If an item is grown within 200 miles of the store, it receives a 'Homegrown' label. "We take the 'Homegrown' label seriously," says Michael.
Michael goes on to say, "Mariposa Farms has been a staple in the herb industry in the Midwest for quite a while. Having Mariposa Farms in Grinnell, Iowa only makes the decision to carry their products easier. It's a locally produced product. I carry all of Mariposa Farms dried peppers and fresh herbs, and my customers love that we are committed to purchasing from a local Iowa grower year-round."
Mariposa Farms has recently introduced a line of organic fresh herbs. Currently offered are basil, mint, rosemary and thyme. "I've carried Mariposa Farms Organic Basil since it became available. It is our only available organic fresh herb, and organic customers are ecstatic about it!" Michael said.
Michael has been with Hy-Vee for 11 years, and has worked at four different Hy-Vee stores. I asked him what makes Hy-Vee produce departments different from other stores'. He explained to me that the high quality of the produce is key. "We have a fresh produce truck [deliver] every single day. That alone sets us apart from most, if not all, of our competition."
Hy-Vee stores offer a large variety of fresh produce from all around the world. It's not uncommon to see an item that you've never seen anywhere before, or to find many varieties of one particular item. After all, an apple is just not an apple sometimes. Hy-Vee makes sure you can get that special item you are searching for to make your recipes come out perfect.
Hy-Vee operates more than 240 retail stores in eight states, including Illinois, Iowa, Kansas, Minnesota, Missouri, Nebraska, South Dakota and Wisconsin. If you get to West Des Moines, Iowa, stop at the Hy-Vee located at 1700 Valley West Drive, say 'hi' to Michael, and check out the store!
Store Locator: https://www.hy-vee.com/stores/

Produce Manager, Michael

Mariposa Farms display in Hy-Vee's produce department

Hy-Vee in West Des Moines, Iowa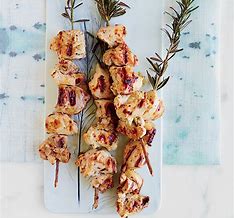 | | |
| --- | --- |
| | |
In a large bowl, add onion, garlic, De Arbol chilies, minced rosemary and marjoram, lemon juice and olive oil. Mix well. Set aside 1/4 cup of marinade for basting. Season chicken with salt and pepper. Add to marinade, mix well. Cover and let set for 30 minutes.

Remove chicken from marinade. Thread chicken onto rosemary skewers. Discard marinade. Grill chicken over medium heat. Turn occasionally and baste with reserved marinade. Grill until cooked completely through. Serve with lime wedges.
| | |
| --- | --- |
| | |
Combine basil, olive oil, pine nuts and garlic in a food processor. Pulse until it forms a paste. Add cheese and salt. Blend until smooth. Put into small bowl. Top with olive oil. Chill.