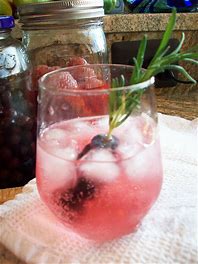 | | |
| --- | --- |
| | |
In a medium sized saucepan combine honey with 4 cups water, 1/4 cup lemon juice, and rosemary. Bring to boil, remove from heat and steep for 5 minutes. Strain out rosemary and transfer liquid to a large bowl to cool.

While the mixture is cooling, slice the strawberries, press them through a fine sieve, add to the cooled liquid. Then stir in the remaining water, lime juice, and remaining lemon juice. Pour over ice in a punch bowl, add mineral water, and serve.

For added flavor and appeal spear 3-4 blueberries on a sprig of rosemary and place in glass of punch before serving.