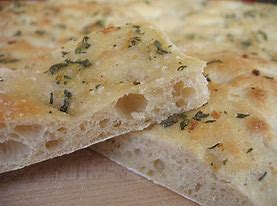 | | |
| --- | --- |
| | |
Stir yeast packet into water and allow to grow, after about 5 minutes add olive oil to the water and mix.

In a large bowl mix the flour, salt, pepper, and herbs together. Once everything is well mixed, create a small well in the middle and pour in the yeast mixture.

This will be mixed by hand, wet your mixing hand first to prevent the dough from sticking to your fingers. This should mix well to form a rough dough that pulls away from the sides of the bowl. If its too sticky add flour 1 tbsp at a time . If its too dry add water 1 tbsp at a time. Once the dough comes together turn it onto a lightly floured work surface and knead until it forms a smooth ball. Using the original mixing bowl, coat it with small amount of olive oil and place the ball of dough inside, turning to coat the surface with oil. Cover and let it rise until double in size. Depending on the room temperature this usually takes 1 - 1 1/2 hours.

In the meantime, prep a large baking sheet by generously coating it with olive oil.

Once the dough has risen, turn it out onto the prepared baking sheet and flatten it out into a large rectangle. Using a dough scraper, cut the dough into 4 evenly sized rectangles. Press the rectangles flat and arrange so that each one is pressed into a corner of the pan. Cover and let the dough rest for 20-30 minutes.

While the dough is resting, preheat the oven to 450 degrees F.

Check the dough, you're looking for it to be approximately an inch thick. IF you've reached that point, poke the dough all over to create small dimples across the entire surface of the dough.

Using a basting brush, generously coat the tops of the dough pieces with olive oil making sure to completely cover the entire surface.

Top the dough rectangles with your favorite toppings. Once you've got them all topped, sprinkle the bread with course salt.

Bake @ 450 degrees for 20-25 minutes until golden brown. Allow to cool for 10 minutes before cutting. Enjoy!