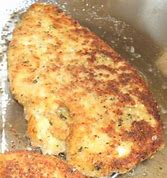 | | |
| --- | --- |
| | |
You will need 3 shallow bowls to bread the chicken breasts. Pour the flour in the 1st one; beat the eggs in the 2nd one; and mix the breadcrumbs, parmesan cheese, salt, pepper, and chopped fresh herbs in the 3rd one.

Season the chicken with salt and pepper. Coat with flour and shake off excess so its lightly coated. Next dip the chicken in the egg mixture and turn to coat evenly, let any excess egg drip off. Finally coat the chicken in the bread crumb mixture, turning several times to coat well. Set each piece on a plate and repeat process until all of the chicken breasts are coated.

Heat both oils together in a large skillet over medium heat. When oil is hot, add the chicken breasts to the pan and cook for 2-3 minutes until the first side is golden brown. Turn each piece over and cook until done, approximately 2-3 minutes. Serve immediately with lemon wedges.