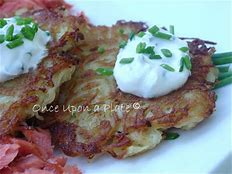 | | |
| --- | --- |
| | |
In a food processor grate onion and potatoes (alternate between the two for a better blend). Sprinkle with salt and transfer to a colander set over another bowl. Set aside. Reserve the liquid that drains. Once the starch settles to the bottom of the liquid, pour off clear liquid and add milky starch into a bowl with the potato and onion mixture.

Add chives, cracker crumbs, eggs and salt and pepper to the potato mixture. Gently stir.

Pour oil into skillet, approx 1/4 inch depth, and heat over medium high heat.

Form potato mixture into balls (1/4 cup) and place into hot oil. Flatten gently to form a patty about 3 1/2 -4 inches across. Fry for about 8 minutes turning once. Transfer to a plate lined with paper towels to drain.

Serve with sour cream our applesauce.