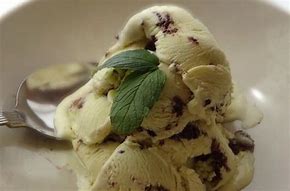 | | |
| --- | --- |
| | |
In a medium size pan warm the almond milk, add the mint. Remove from the heat. Crush the mint with a potato masher, cover and let set for 10-15 minutes. Strain and discard large chunks of mint.

In a large bowl add the coconut cream that you separated earlier, (save the thin liquid portion for a different use later). Add the mint infused almond milk, honey, vanilla, coconut oil and arrowroot powder. Using an electric mixer (hand held variety) mix all ingredients until smooth. The coconut cream will give you a fluffy appearance, this is the stage you want.

Pour this mixture into your ice cream freezer and add the chocolate chips. Churn according to the directions on your variety of ice cream freezer, usually about 40 minutes. When it resembles a soft serve consistency, remove the paddle and cover the bowl with plastic wrap first and then foil wrap. Freeze for about 2 hours for a thicker product.

Scoop out into dishes or cones and sprinkle with your favorite toppings. Enjoy!