When you're a kid looking for those bunny tracks to lead you to your hidden treasure of an Easter basket, all you can think about is the candy that you'll find inside. Fun fact #1: 16 billion jelly beans are made specifically for Easter each year. Fun fact #2: When eating a chocolate bunny, 76% of Americans prefer to eat the ears off first.
Now, as an adult, I still love the candy, but also look forward to the family gatherings and the scrumptious food that everyone brings.
Every culture that celebrates Easter has its own traditional Easter foods. For instance, the United Kingdom has Hot Cross Buns. A Hot Cross Bun is a light brioche-style bread that is cut on top before baking. Sometimes it is frosted on top to add some extra sweetness. Schinken im Brotteig is a German dish. It translates to 'ham in bread' which is exactly what this dish is. In Argentina, Torta Pascualina is similar to quiche with ricotta cheese. On Easter morning in Jamaica, a bun (a sweet bread) topped with a creamy cheddar cheese is eaten.
The most often prepared dish on Easter, in the United States, is an Easter ham. Here is our version of a delicious ham for your Easter meal.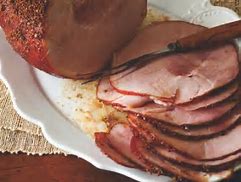 Cook Time

25

minutes per lb
Cook Time

25

minutes per lb
In a small bowl, combine the thyme and rosemary. Season the ham with salt and pepper. Rub the herb mixture all over the ham and set aside to marinate and come to room temperature, 30 minutes.

Preheat oven to 350 degrees F

Place the herb-crusted ham in a roasting pan sitting on a rack. Bake approximately 25 minutes per pound, or until it reaches an internal temperature of 150 degrees F. on an instant read thermometer inserted near the bone. Remove from the oven and loosely tent aluminum foil over the ham until the center reaches a temperature of 160-165 degrees F. on the instant read thermometer, 20-25 minutes.

Remove ham from the roasting pan. Transfer the drippings to a sauce pan to make the au-jus. Add the chicken stock, dash of salt and pepper and bring to boil over high heat. Decrease the heat to medium to keep warm until serving. Taste and adjust seasoning with salt and pepper.

Once the ham has rested, transfer to a cutting board, carve, and serve with the au-jus on the side.