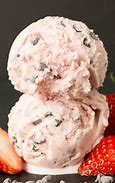 | | |
| --- | --- |
| | |
In a heavy saucepan combine the milk and heavy cream, bring to a boil over medium heat. Remove from heat.

In a medium mixing bowl, combine the egg yolks and 1/2 cup of the sugar. Beat with a mixer at high speed until its thick and light in color. Slowly whisk about half of the milk mixture into the egg mixture, stirring constantly. Return this new mixture to the remaining milk mixture in the pan.

Reduce the heat to medium-low and cook for 2-3 minutes, until the mixture thickens slightly and coats the back of a spoon. Place the saucepan in a large bowl of ice to cool. Stir occasionally.

In the meanwhile, in a medium pan combine the remaining 1 cup of sugar and 1/2 cup of water, bring to a simmer to dissolve the sugar. Add the mint, stir and smash; cover and let steep for 5-6 minutes. Strain the mixture to remove any chunks of mint, discard the mint.

Pour the mint syrup mixture over the chopped strawberries and puree with an immersion blender or pour directly into a blender and puree. Combine the cooled milk mixture to the strawberry puree, add the mini chocolate chips and mix well. Cover and chill for at least 1 hour.

Pour the mixture into the freezer bowl of your ice cream freezer and freeze according to the instructions for your freezer.

When the freezer is finished mixing, spoon the contents of the freezer bowl into a freezer safe bowl and freeze for 2-3 hour or until its to the desired firmness.

Serve in a waffle bowl or cone and enjoy.