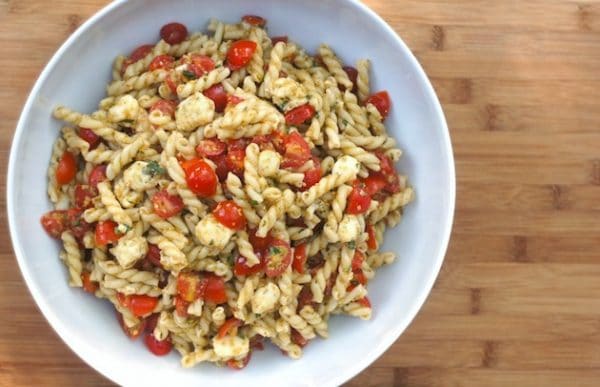 | | |
| --- | --- |
| | |
Preheat oven to 450 degrees F.

Line a medium sized baking sheet with foil and arrange the tomato halves cut side up on the baking sheet. Sprinkle with the garlic, oregano and salt. Drizzle with 1/4 cup olive oil. Roast in oven for 25-30 minutes or until light brown and shriveled. Remove from oven and set aside.

In a large pan bring water to boil and cook the pasta per directions on box. Drain the pasta when its done cooking.

In a large bowl whisk together the 1/3 cup olive oil, the red wine vinegar, and the pepper. Add the pasta to the bowl; toss to coat. Let cool to room temperature, stirring occasionally.

Add the tomatoes, dripping and all to the pasta, stir and add the mozzarella and basil. Toss to combine. Sprinkle the top with parmesan cheese before serving. Serve at room temperature.