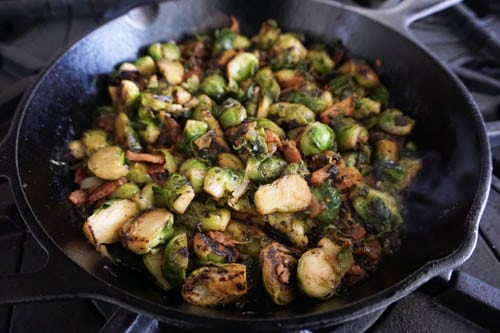 | | |
| --- | --- |
| | |
Wash the brussels sprouts under running water, slice off the stem end about 1/4 of the way into the sprout and remove the yellowing outer leaves. Make sure that the rest of the brussels sprouts are clean and blemish free and remove any bad spots or leaves.

You can either slice the brussels sprouts in half or cut an "X" in the stem end to help the cook evenly. Using a large cast iron pan, heat the olive oil over medium heat (Do Not let the oil Smoke). Saute the brussels sprouts until they just start to brown, stir in the fresh thyme leaves.

Add the balsamic vinegar , turn the heat down to low and cover. After 2-3 minutes, remove the cover and add 1/4 cup water. Cover and continue until the sprouts start to soften, approximately 8-10 minutes.

Turn up the heat to high, add the butter and chopped pecans. Saute for 1-2 minutes or until the pecans are lightly toasted. Remove from heat and add the chunks of bacon. Salt and pepper to taste. Serve immediately.