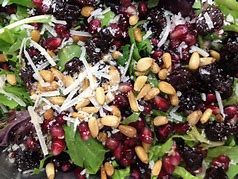 | | |
| --- | --- |
| | |
Fill a medium-large pot 2/3 full of water, bring to a rolling boil. Add basil leaves, pushing with a large spoon to submerge. After 20 seconds, drain basil and rinse with cold water for 30 seconds to stop the cooking process. Spin the basil leaves in a salad spinner to remove the excess water.

In a blender combine basil, rice vinegar, sugar, honey, garlic clove, ginger, lemongrass, and salt. Cover and blend on high until dressing is bright green and silky smooth. Taste and add salt and pepper if needed. Set aside.
Place 3 ears of corn in the microwave, unhusked, cook on high for 12 minutes. Remove from the microwave with a clean towel or oven mitt to a cutting board. Cut the corn off the cob.
Heat a gas or charcoal grill on high for 20 minutes. Clean the grill grate thoroughly with a wire brush and wipe the grates with a paper towel soaked in oil.

Remove steak from the refrigerator 45 minutes before grilling.

When ready to put the steak on the grill, sprinkle generously with kosher salt, garlic, powder and freshly ground black pepper.

Place steaks on the grill and cook for 5-7 minutes per side, or until the internal temperature reaches 130 for rare, 135 for medium rare or 140 for medium. If the outside is a nice golden brown color but the internal temperature has not been reached, set to the side for indirect heat to finish cooking.

Remove from heat and tent with foil, allow to rest for at least 10 minutes. Slice thinly just before serving. Taste and add a bit more salt and pepper if needed.
Arrange 4 dinner plates, add the arugula, divide the corn, steak and cherries between the plates. Scatter with cashews and drizzle with the dressing. Pass the extra dressing around the table.