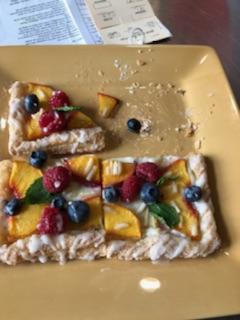 | | |
| --- | --- |
| | |
Preheat oven to 425 degrees F.

In a small sauce pan add the Mariposa mint and water. Bring to a simmer, shut off and set aside.

Line a cookie sheet with parchment

Thaw puff pastry, on a floured surface roll sheet to a 12 x 14 and cut in half. You will have 2 6 x 14 in sheets. Place on cookie sheet. Using a knife score a 1 inch border along edges. Using a fork dock the inside of the pastry. Cover and return to the fridge till ready.

Combine the cream cheese, Mariposa thyme, sugar, lemon juice and vanilla. Set aside.

Spread the cream cheese on the inside of the pastry border.

Wash and slice the peaches about 1/4 inch thick. Arrange the peach slices on the cream cheese and sprinkle on the almonds. Sprinkle course sugar on the border.

Bake 15 to 20 minutes. While baking, wash fresh fruit and dry. Make the drizzle. In a bowl mix the powder sugar adding enough mint water to make a loose drizzle.

On just warm Tart place the rest of the fresh berries and Drizzle on the mint drizzle. Garnish with a Mariposa mint leaf.