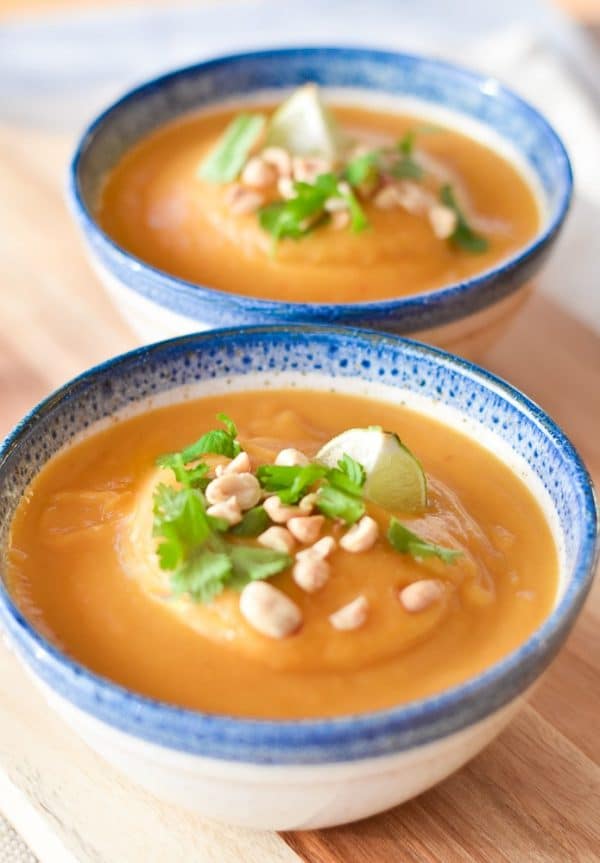 | | |
| --- | --- |
| | |
Combine the buttermilk and heavy cream in a non-reactive container. Cover and allow to rest at room temperature until thickened to desired texture, this usually takes 12 hours. Store in fridge for up to 2 weeks.
Preheat oven to 400 degrees F. Place the squash on a baking sheet lined with parchment paper or foil, drizzle with the oil and honey. Place in the oven and roast for 25-35 minutes or until tender.

Heat a skillet until its hot, add the onions and garlic and fry for 1-2 minutes. Add the wine and vegetable stock, bring to a boil. Simmer for 3-4 minutes and then add the cooked squash.

While that is cooking, chop half of the basil and all of the chervil and place in a food processor with the olive oil and blend to a fine puree. Pour into a separate bowl and set aside.

Rinse out the food processor. Place the butternut soup in the food processor, add the heavy cream, lime juice and zest and blend to a puree. Return the butternut soup to a pan and heat through, season to taste with salt and pepper.

To serve, ladle the soup into bowls, top with a spoonful of creme fraiche. Sprinkle with toasted pine nuts, and drizzle with the herb puree. Garnish with the remaining basil leaves.