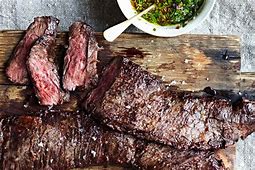 | | |
| --- | --- |
| | |
In a small bowl, combine 1 tbsp of the kosher salt, olive oil, lemon juice and zest, thyme, garlic, red wine vinegar and black pepper and whisk to blend.

Rub steaks with the marinade and place in a zip-top bag or non-reactive dish and refrigerate overnight.

Place the dried peppers in a hot skillet and lightly toast over a low flame.

Let cool and then remove the stems and seeds.

Roughly chop the peppers.

Put the peppers and remaining ingredients in a small blender and process until finely chopped.

If whole seeds or peppercorns remain, mash them by hand in a mortar and pestle and then add to the mixture.

When ready to grill the steaks, heat a charcoal or gas grill on high heat. Remove steaks from the bag or dish and lightly sprinkle both sides with the rub.

Cook over a hot grill, searing on one side, then flipping once.

Cook to desired temperature, preferably medium-rare (130-135 degrees F on a digital thermometer)

Let rest for a few minutes before serving.